Services provided.
Routine medical, dental, stud /lameness examinations and treatments, (either at the clinic or at our client's premises).
Gastroscopy /videoendoscopy (tracheal washes etc).
Veterinary pre-purchase examinations.
Digital radiography (either on site /on visits).
Digital ultrasonography (either on site /on visits).
AI with fresh or chilled semen, (BEVA approved list 2023).
Stem cell, PRP (Platelet Rich Plasma) /IRAP (Interleukin Receptor Agonist Protein) treatment of tendon and ligament injuries.
Export certification (horses only).
Riding School Licencing inspections.
Provision of veterinary cover for equine competitions, racecourses /point to points etc.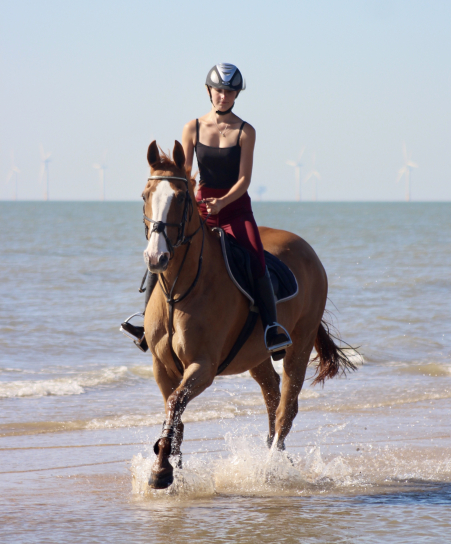 Vaccinations
All our clinical records are fully computerised. We send out text vaccination booster reminders to our clients as well as giving them a reminder sticker to put on the passport cover at the time of each vaccination. Please ensure that we always have an uptodate mobile number. We must stress however that no veterinary practice can accept responsibility for ensuring that all the vaccinations given to individual horses, comply with the specific rules of competition -these are dictated by the individual governing bodies (e.g. the FEI etc), and may change at any time. This will always be the individual owner's sole responsibility. In essence it is no defence in law to drive an untaxed vehicle on the road and to argue that you did not receive a reminder from the DVLA.
Preventative medicine programmes
At The Acorns Equine Clinic we are passionate about preventing equine diseases where ever possible. Given the alarming rise in resistance to the commonly used anthelmintics, we would urge all our clients to get regular faecal worm egg counts calculated on their horses (ideally every three months) and to treat only those with a significant worm burden. (You can download a detailed fact sheet on this subject from this site). The Acorns Equine Clinic is happy to perform routine faecal worm egg counts and to advise on which products to use on individual horses should they subsequently need to be treated. Given the fact that resistance is now a real problem, we always urge that our clients submit a follow up sample 7-10 days AFTER treatment, to ensure that the offending worms have been successfully removed. We charge a reduced fee for retests. We are always happy to advise clients on any aspect of preventative medicine (e.g. Strangles /worm control etc) and to discuss whether other vaccination programmes (e.g. Herpes virus) are indicated.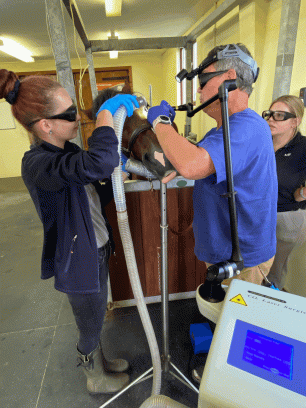 Equine 'MOT's:
We would like to take this opportunity to recommend our annual 'MOT' programme. This includes the following:-
An eye examination, (looking for cataracts etc).

A routine heart and lung examination.

A check for any lameness (including flexion tests).

An estimate of weight and a body condition score.

A dental examination (rasping the teeth if required).

A routine (haematology) blood test, (this would establish the normal values for your individual horse).

A faecal worm egg count.
This 'MOT' is aimed primarily at the middle aged to older horse and we see it as an annual 'well man /well woman' type of check-up. This gives you the reassurance that your much loved horse remains in good health and continues to be safe to ride. A major benefit of this examination is that we would hope to detect diseases earlier, ('prevention is usually better and cheaper? than a cure'). A good time to consider an 'MOT' examination is when your horse is due his /her annual booster vaccinations. An 'MOT' currently costs £120.00 (plus VAT), this represents a saving of a third off the full price if these services were charged for separately. This price however does
NOT
include the cost of any sedation (if required) and it only covers the cost of
routine
tooth rasping.
Health Plans
At the Acorns Clinic we passionately believe that preventative medicine is the best way to provide long term care for your horses. As such we have developed a scheme where you spread the cost and can pay by monthly direct debit for your routine vaccinations, fecal worm egg counts and an annual MOT. This scheme (Elite Plan), also provides discounts on certain medications* (eg. wormers, bute, pergolide, Acorns Equine /Hestevard supplements etc). For further details or to join up, please follow the following link.
https://theacornsequineclinic.plansignup.co.uk/
(* Discounts apply after the fourth payment).
Pet vaccinations
Whilst we do not run a small animal clinic, we are happy to do routine vaccinations of both cats and dogs whilst attending our client's horses. Additionally we are happy to provide routine wormers and flea control treatments for these animals. We would be happy to recommend local small animal clinics to our clients for any other clinical services.